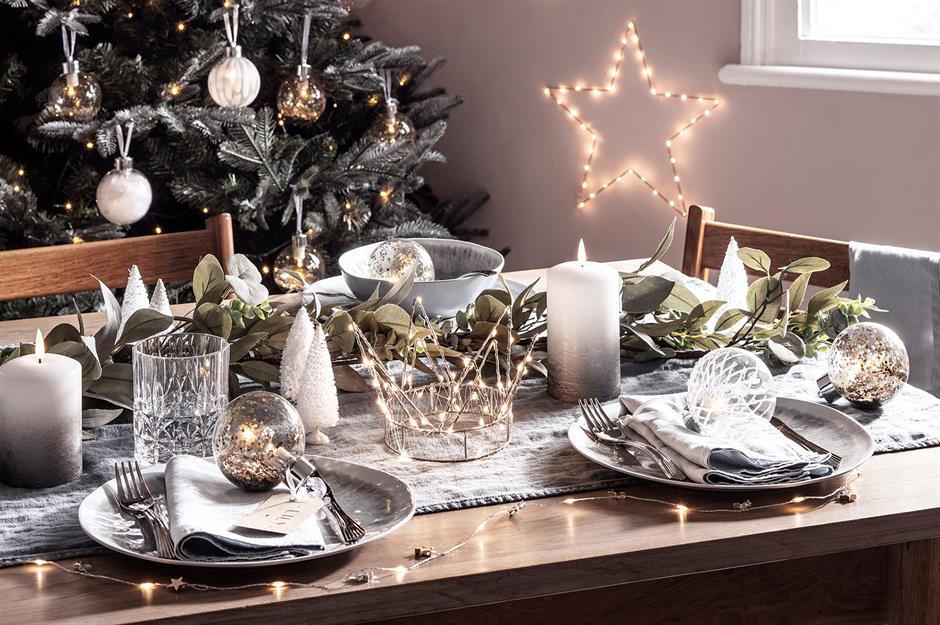 Dressing your Christmas table
Every year, when Christmas comes around, we all want to set a showstopping tablescape, worthy of Pinterest! While this Winter may be a little different, we still believe you should make the day feel as special as possible, and find joy in the little things that we can do to elevate the day.
Carry on reading for all of our tips to style your table and celebrate in style!
The Foundations:
Start by placing your largest decor items, that will set your theme, across the centre of the table. When adding these items think about the movement and flow you want to create, and make sure you mix the heights of these decor pieces.
The Florals:
Your flowers and foliage should match your overall colour scheme to make your table look cohesive and inviting. We love frosted winter stems and deep Autumn-toned eucalyptus. Gather your florals together in a statement vase, or create a garland to intertwine between your decor.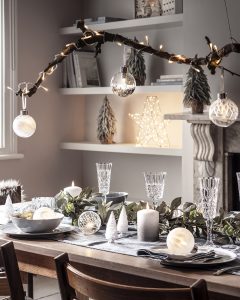 The Food:
You want to show off all of your hard work in the kitchen in the best way possible, and your food presentation shouldn't be forgotten. Use our feather serving spoon set to add a unique touch, and present pudding on a shining cake stand from our Kollection.
The Finishing Touches:
You have your gorgeous decor items and festive foliage, so now it is time to add the finishing touches. Add candles to help create an intimate atmosphere, use quartz coasters to add a luxurious element, and finally, add glistening reindeer place name holders for a personal touch.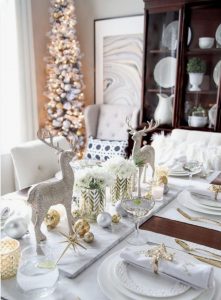 We hope you have fun following our simple steps for a beautiful dining experience this Christmas.
How to dress your home this Christmas
You may think more is more when it comes to Christmas decor. However, sometimes this can be a little overwhelming to be around, now we are spending more time indoors. We recommend focusing your decor into dedicated areas of the home, and coordinating these areas, to create a beautiful and cohesive Christmas feel this season.
How to create a home bar and entertain in style
Celebrating when there are restrictions in place may not seem joyful, but have you thought about bringing the special celebrations home, and entertaining at your own home bar in great style! Home bars can be an unexpected element of design and added to any space. Learn to set up a designated space that not only has the tools for magic mixology, but is also beautiful and inspiring…
Convert your Dining Table: If you do not have space for a separate area, convert your table into a make-shift after dinner bar by using pre-laid trays to showcase your selection for guests. Dress a glamorous tray with beautiful glassware, stirrers, and fresh fruit platters to add to your cocktails.
Add a Chic Bar Trolley: A slim-line Drinks Trolley might be the perfect piece for you, that is versatile and can be tailored to any party situation, and wheeled in in-style! Be mindful of keeping it neat and tidy for maximum WOW factor.
Spruce up your Sideboard: Utilise your console space to create a show-stopping bar scene. We recommend using beautiful trays to create sections so you can serve your different drinks with ease. Be sure to leave room for lamps and small decor elements to keep it functional and decorative.
Use a Fabulous Feature Piece: Our Luna cabinet is the perfect transformation piece, as when the clock strikes 5pm the doors can swing open to reveal a fully stocked bar! Keeping your special glassware and premium drinks in a bespoke cabinet will ensure the bar area does not impact your other home decor elements, but compliment your home style. You then have the pleasure of doing a grand reveal for your guests!
Built-in is Best: If you have the space, we love adding a built-in home bar to your entertaining area, so you can truly treat your guests. Imitate a true bar with bold design and strong colours, such as deep blues and antique mirror-backed bars, and hide behind cabinet doors or leave on show for all to admire!