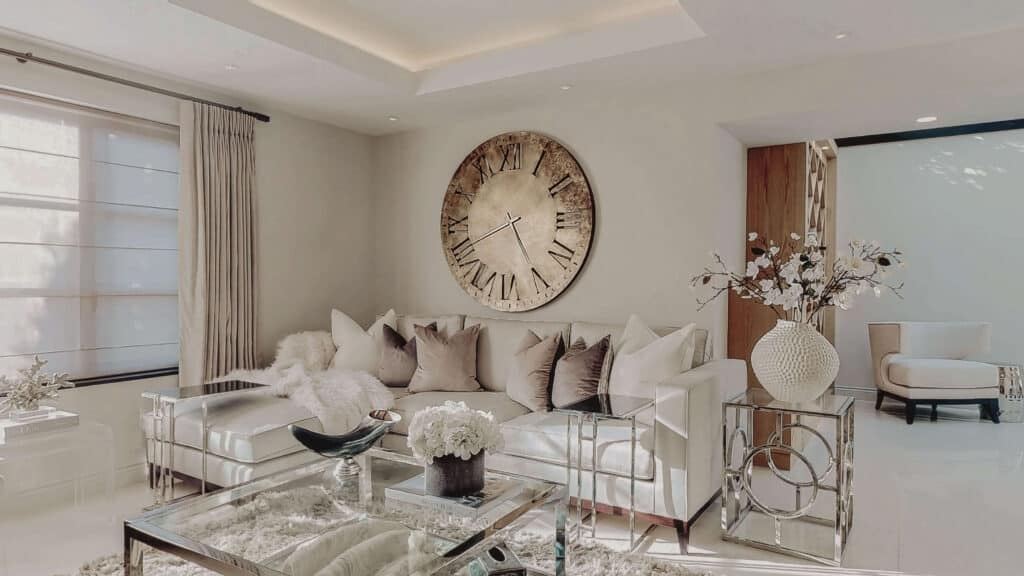 Your living room is at the heart of the home, so create a living space that you love and enjoy spending time in. Here are a few of our expert interior design ideas for your living room that you'll want to try.
Choosing Interior Design Themes For Your Living Room
By loosely choosing a scheme, be it a colour or style theme, you can easily 'pull together' a modern living room. Choosing a design theme will help you create a connection with everything within the room and allow you to create a lounge that flows in feel and look. When choosing a living room theme, add furnishings and objects that champion the style and theme of your living room.
If you are planning to incorporate bold colours or prints, then consider the size of the room. Add these elements slowly into your interior design. If you are not overly confident in introducing a new theme to a room, go for lower value additions such as cushions to introduce subtle changes to your interior design for the living room.
Add Luxury Interior Design Touches
The luxury interior design of a living room is all about the details and the styling of a room. Adding luxury faux fur cushions and throws instantly upscale your living room and sofa. Choose ecru, pearl, charcoal, sand and oyster for a colour scheme that will fit effortlessly within most interiors.
Our interior designer tip is to go bold with textures when choosing your cushions. Choose cushions with luxury textural fabrics, patterns and embroidery. Blend these with plain cushions for a high-end look and feel.
Styling your coffee table is another top interior design idea; Add decorative objects of desire to luxury coffee table books to create miniature works of art. Work with the principles of creating a pyramid to draw the eye up and down.
Interior Design Ideas For Your Fireplace
For interior design for a living room with a fireplace, add faux flowers as a centrepiece to your fireplace. A huge bouquet of quality faux flowers with faux willow spray in a statement vase placed within a fireplace surround on the floor or on top of the mantlepiece ensures this 'dead space' during the warmer summer months is 'framed' and a beautiful focal point. Purchasing faux flowers and plants is a worthwhile investment if you want colour and interest all year round.
A statement mirror or large piece of modern artwork is an absolute interior design must to finish your living room fireplace. Mirrors open up a room and give your lounge additional light and a greater sense of space in small living rooms.
The Shape Of Things To Come
We love incorporate aesthetically pleasing curved shapes into our designs.
By adding accessories with smooth curves and sculptural art pieces with circular symmetry, you can create a room that effortlessly flows throughout. Group these curves and arcs to create centrepieces on coffee tables, sideboards and mantlepieces.
Material World
With the big interior design trend for biophilic design continuing to rise, incorporating elements of nature has never been so popular. Look to include materials that would see in grand residences for a luxury take on this trend. Natural materials such as marble and stone are the mainstay choice for many stately and celebrity homes, so integrated into a lounge, even on a smaller scale, they can upgrade the room. An easy interior design idea for your living room!
When grouped with other objects of textural interest, this decorative marble disk on stand looks timeless and elegant. Choose ornaments that reflect nature, such as coral sculptures, artichokes and pumpkins, for a reassuring nod toward the natural world.
Are you feeling Inspired?
Don't Forget To Follow Us On Instagram And Facebook For More Expert Interior Design Tips And Tricks To Transform Your Home.